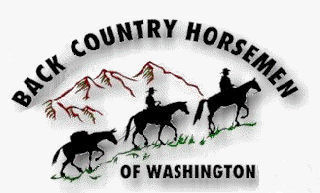 LEWIS COUNTY CHAPTER of the Back Country Horsemen of Washington
Welcome
If you're in the Lewis County area and enjoy horses or mules and the great outdoors, we'd like to welcome you. If you're interested in trail riding, campouts, great potluck food, socializing and doing your part to assure continued recreational opportunities on our public lands, then this just might be the organization for you. You can make a difference by learning and teaching methods of responsible use of our public lands and have a great time in the process. Our Chapter activities include trail rides, campouts, trail building and maintenance, monthly meetings, potluck dinners, state BCHW general membership and in general having a good time with folks that share our interests. If this sounds interesting, take a look at our state web page. You're welcome to contact us for more information or come to one of our meetings and meet a good group of folks that share your interest. Thanks for stopping by.
OBJECTIVES
The purpose of Back Country Horsemen of Washington is to work toward the perpetuation of the legal and moral claim by the American people to use horses and mules for recreation on public lands. See the Back Country Horsemen of Washington page for general information
MEETINGS
The Lewis County Chapter of the Backcountry Horsemen of Washington normally meets on the first Wednesday of each month at the Salkum Fire Hall. If you are interested in coming to one of our meetings, please call or email to confirm the location and time.
MEMBERSHIP INFORMATION
Membership is open to anyone who shares the objectives of BCHW. The BCHW membership is $41.00 for single and $54.00 for family membership. The Chapter dues are $5.00. For online membership renewal or new memberships click here. Get a printable Chapter application here.


2021 Officers/Contacts

President Tony Karniss (360)748-8640
Vice President Deb Wesselius (360)736-6106
Secretary Carolyn Stella (360)262-3463
Treasurer Lynda Holloway (360)561-8158
Trail Boss Slim Murdock (360)520-5588
Trail Boss Tony Karniss (360)748-8640
Trail Boss Bill Hawley (425)217-9019
Trail Boss Leonard Wright (360)506-1598
Director Tom Conner (360)269-3804 (2021, 2022 and 2023 term)
Alternate Dir. Sherri Wright (360)520-6190 (2019, 2020 and 2021 term)
Volunteer Hours Roberta McTimmons (360)262-9464
Grant Chair Leonard Wright (360)506-1598
Grant Liaison Deb Wesselius (360)736-6106
Newsletter Editor Maggie DeVerter (916)205-8263
Activity Chair Vacant
LNT Chair Vacant
Legislative Vacant
Membership Chair Lynda Holloway (360)561-8158
Publicity Maggie DeVerter (916)205-8263
Webmaster Avaiable
Parliamentarian Doc Wesselius (360)736-6106
January 2020 Minutes

November 2019 Minutes

October 2019 Minutes

September 2019 Minutes
August 2019 Minutes

July 2019 Minutes

June 2019 Minutes

May 2019 Minutes

April 2019 Minutes

March 2019 Minutes

February 2019 Minutes

January 2019 Minutes

Printable December 2018 Newsletter

Printable November 2018 Newsletter

Printable July 2018 Newsletter

Printable June 2018 Newsletter

Printable May 2018 Newsletter

Printable April 2018 Newsletter

January 2019 E-News

Click here to find us on Facebook
Click here for the BCHW Photo gallery


Hard workers at the Keenes Horse Camp relocation project, Summer 2001

Stories
A Tale of two Horses
That's What it's All About
Links
BCHW Leadership Training

Copyright © 2001 - 2021 Lewis County Chapter of the Back Country Horsemen of Washington All rights reserved. Contact the web author, Jim Thode at Jim@JimThode.net